Are your hot leads turning cold because your staff is too busy handling emergencies or experiencing constant interruptions?
If you don't take quick action on a lead, you are losing business. A 2013 Lead Simple study found 35-50% of sales go to the vendor that responds first. If your phone isn't answered immediately, you risk potential owners moving on to the next company.
If you are finding it difficult to give potential owners the immediate attention they require, hiring a Virtual Assistant may significantly benefit your business. It can improve your lead conversion, increase your team's morale, enhance customer service, earn you more positive reviews, and help you grow.
Home Property Management's Experience with Hiring a Virtual Assistant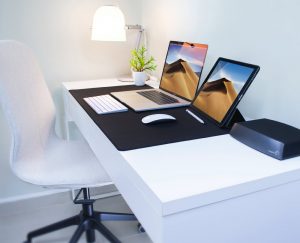 Tasked with growing the company, Megan Breen's obstacle was her inability to focus on incoming leads and lead generation. Wearing the hats of both property manager and BDM, she was spending too much of her day handling urgent issues that came in. The property management tasks were overtaking the ability to pursue BDM opportunities. Unable to commit the necessary time to business development, growing the West Palm Beach property management company seemed to be an unattainable goal during each chaotic day.
Not yet able to hire someone full time in the office, HPM opted to hire a Virtual Assistant. When Stephanie first began, they gave her some simple tasks and over time handed over more and more responsibility. With each new task Stephanie took on, Megan was able to focus on her most important objective – growing the company.
VAs can increase your on-site employees' productivity and impact on the business
Stephanie was eventually trained to handle tenant inquiries and interactions so that she could answer the main phone line. If she is busy, the line rolls over to a call center to handle. Productivity in the office increased as there were less phone calls and interruptions during the day. People that call the office get a real person to talk to, which was an important improvement in the customer's experience.
After working for HPM for three years, Stephanie is so competent that her position is being changed to focus on more important things. HPM is hiring a second VA to be her assistant. The new VA will take care of the more mundane tasks and allow the on-site property manager to off load some of his responsibilities to both.
Megan says that hiring Stephanie was one of the best decisions they have made. It has allowed them to stop running in circles to find enough time each day. The office runs more efficiently, the staff are more productive, and morale is improved. Stephanie is a smart, reliable, competent addition that has added immeasurable value to the company.
What to look for in a Virtual Assistant
Completes tasks on time
Picks up new skills quickly
Shows initiative
Typically, you need to teach a VA about the property management industry. They aren't necessarily familiar with the terms or how we do property management in the US. Our version of property management may be significantly different from how it is done in their country. Finding the right person can be an overwhelming job, unless you hire a VA from VirtuallyInCredible.
VirtuallyIncredible's VAs have training in property management basics
When you hire a VA from VirtuallyIncredible, they are already familiar with US property management, so you can skip that beginner learning curve. They already have skills such as:
English proficiency
Customer-facing phone skills
College educated
Basic property management training
Over time you can train a VA to do a wide assortment of tasks that allow your office staff the necessary time to focus on growth.
Examples of tasks you can assign to a VA include:
Phone support
Rental lead support
Tenant screening
Move-out POC
Delinquency POC
Lease Preparation
Maintenance Coordination
Bills Management
If you aren't quite sure where to start in hiring a VA for your property management company, please reach out to us. We will happily answer any questions you have. Schedule an appointment today.