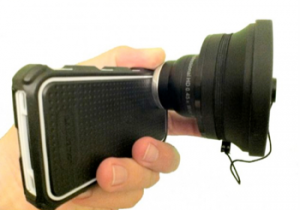 iPhone 4/4S Super Wide Angle Lens
For the past year I've been using an inexpensive ($30) wide angle lens on my iPhone 4 in all of my real estate video tours.
In the video below, I demonstrate the difference between using a standard/inexpensive wide angle and a better quality lens set.
You'll be surprised!
See the difference a quality lens can make
When you watch a complete video tour taken with a good quality lens, you'll notice just how much more relaxing it is to watch.
Why? It's simple – twice the area means half the movement to show to the same room. Put another way, I don't have to move the camera from left to right as much, and less motion makes the video far more 'watchable'. The only thing you'll need is an iPhone and this Super Wide Angle Lens!
To Shoot Photos: Simply remove the frontmost lens and use only the smaller lens. This will allow you to shoot 14.75mm photos.
To Shoot Video: Attach the super wide angle lens by screwing it on to the smaller lens. We suggest you update your phone to IOS5 and use the default camera app. By tapping and holding on the screen you can adjust and lock both exposure and focus.