Video Mastery Program Experience
Greg Watson of Watson Property, a dominant force in Palmerston North property management and real estate in New Zealand, made a huge decision a couple of months ago when he signed up with us in order to bolster the company's online marketing efforts using online video.
A client of our Video Mastery Service, he is seeing amazing results, and Watson Property's online visibility has increased a hundred fold.
YouTube is considered a search engine now especially since it is the 2nd most searched site in the world…next only to Google.
Video Promotions
Watson Property employed our services to create a professional company introduction video that was highly-optimized for both YouTube and Google searches based on keywords that are relevant to their market.
Watch Watson Property's Promo Video

See Watson's Videos at the top of Google Search Results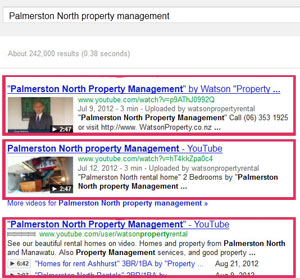 In less than 2 months, the video was able to attract roughly 400 video views, most of which came from their target market and demographic. Many of those views came from Google and YouTube searches as the video has been dominating both search engines.
Video Mastery Service – Taking it to the next level
Taking the next step by joining the Video Mastery Service, Greg and his team, combined with the skilled people of Virtually Incredible, devoted a lot of time in creating quality video tours for the properties they currently manage. Through these video tours, which you can see via Watson Property's video channel, they have been able to generate a large list of prospective tenants for the properties entrusted to them and were able to get most of those properties occupied. They have hundreds of video tours and counting.
Thanks to the grading system included in the video mastery program, his staff has received valuable feedback on their videos which allows them to constantly improve their skills until they reach "certified videographer" status. Now his staff can take professional videos with confidence.
Greg is extremely happy with everything that has been done so far, and his team is receiving more leads and developing more local business than ever before.
A big Kudos to Watson Property for taking this huge, highly-successful leap into the world of video marketing. If you guys like what you see here, I urge you to drop some comments on their YouTube promo video page or maybe even go the distance, create a video response for it.
You can also check out what they have done on their website as well.
Are You Ready to Add Video Marketing To Your Business?
If you like what the Virtually Incredible team has done for Watson Property, contact us for a free consultation and we will get the ball rolling on your next cost-effective online marketing campaign.