We are all used to going into tech stores and marveling at the newest products on display, but it isn't often those behind the counter are more interested in what we have in our hands.
This was the experience one of our customers had when he walked in with his video tour camera setup we put together for him:

Interested in what it was?
The Mobile Movie System
For iPhone 4, iPhone 5, iPad 2, iPad 3 and other mobile devices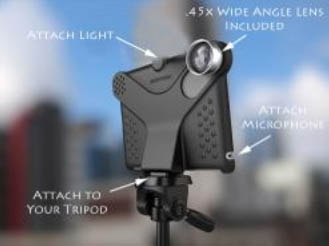 The Universal Mobile Movie System is designed with options to fit many mobile devices. Check back often if your device is not listed or email us with a request and we will try to get your mobile device added to the list of options.
The base case includes a 58mm .45x wide angle lens, the case, shotgun microphone, 160LED light, vlog stabilizer bar, and your choice of mobile fitting to fit your device. The iPad3 and iPhone 4/4S/5 require an additional wide angle lens, so be sure to add that in the ordering options if these are the devices you will be using. Price varies depending on the device you are using.
Read more about it at our Video Equipment Recommendations page.