Watson Property in New Zealand is one of our video optimization program clients. See the results for yourself.


For the search above, these are the natural search results under the map. See the site is taking spot #1 on the first page. A company video holds spot #3. The YouTube channel appears at spot #5 and lists a few video links.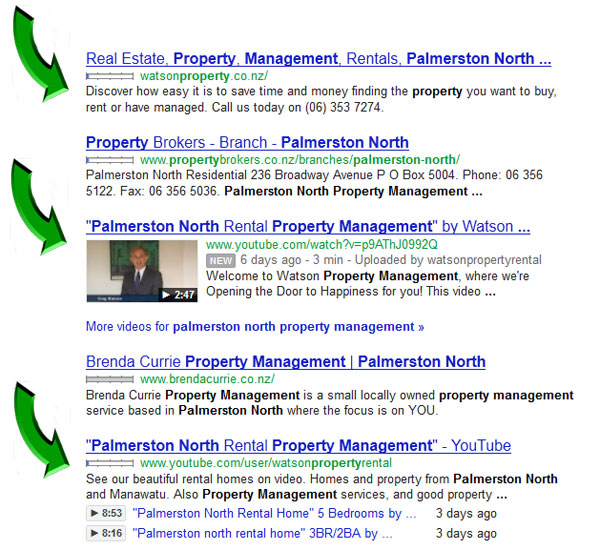 Congratulations to Greg and his team on leading their market with the use of video optimization techniques.
Video Mastery Program
Video optimization is just one of the many services available in the Video Mastery Program which includes:
REVIEW: Your staff's video skills will improve through the review process. You get a report card on each video, with specific training on how to improve! Your entire staff will shoot like a pro in thirty days!
BRAND: We create a custom video intro/ outro with your company logo. Every video tour you shoot promotes your company, and you look like a complete pro! We also optimize your YouTube channel to make it look great.
STABILIZE: We take out the "jitters" so your videos look like they were shot by a professional videographer
OPTIMIZE: We complete the title, description, and tags on your videos according to Google's best practices.
PUBLISH: We add your professionally produced video to your company website, software package (like appfolio, agent+ etc), or internet listing service (like realestate.com.au) – so you don't have to!
PROMOTE: We help you create a promotional video, and get it ranked on page #1 of Google!
Ready to get started?
Learn More about our Video Mastery Service
Need another great reason to be using video on your website?
You are Creating Relevant, Multi-media Content
Frequently creating new articles that contain video keeps your site fresh in content, and now it will also help get your pages ranked in video searches.
Mark R Robertson of ReelSEO.com wrote about his testing of different embed methods in his article Google Now Indexing URLs with Embedded YouTube Videos and found that only the videos using the iframe embed method were being indexed. That is the default setting when you click Embed under the YouTube video.
What should your videos be about?
Some ideas for using video:
Real estate video tours
Company office tour
FAQ: Answer a specific question in your video. Create a whole series.
You can learn to shoot your own videos here today, and be sure to check out our camera equipment recommendations too!
Video Optimization – Stay Ahead of the Competition