"Consumers interact with video listings in a completely different manner to traditional pictorial listings because they can often be more engaging and are able to be easily shared via social media," said chairman and owner of Century 21 Australasia Charles Tarbey. – From Real Estate Business article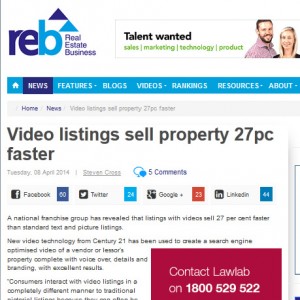 In fact they claim the properties with video sell 27 percent faster.
How important is video going into the future?
Globally, consumer Internet video traffic will be 69 percent of all consumer Internet traffic in 2017, up from 57 percent in 2012. (source)
Advantage of video over pictures when renting a property
Pictures just cannot give you the overall sense of space that a video tour can. Video allows you to see how the kitchen is attached to the living room and where the bedrooms are in relation to the living room. All these are common considerations that are important to the potential renter.
Slideshow videos are not video tours
Many are using slideshows set to music and calling it a video tour. What is missing from these?
They are still just pictures so you can't get the feel of the layout of the rooms
Missing personal narration (instead has irritating elevator music) – The details that you can talk about in a real video are missing
They are typically fairly expensive to produce and have less impact
Produced by a company that doesn't have the detailed knowledge of the property and area like the actual property manager does
A 2009 National Association of Realtors survey found that fewer than 1% of agents were shooting video to sell listings. In 2012, only 3% were using video-hosting websites, according to the NAR. That trend is changing as we move into 2014 and the benefits are making video marketing a very attractive addition to an advertising plan for marketing properties.
Why do potential renters/buyers like video tours?
It is more genuine and real in their eyes. Photos can be altered in Photoshop. With video you are getting the true picture. The ability to preview the home from the comfort of a couch is a huge advantage for busy people that just don't have the time to narrow down choices in person. Video tours can be used to pre-qualify renters/buyers which in turn saves everyone time and the expense of gas from running around town. More and more people are finding their dream home via online tours rather than open houses.
Are you ready to start using video?