Google is known for providing continuous updates in order to produce quality search results for their users. Even the best SEO experts can't pinpoint the exact algorithm used by Google to compute for the Search Engine Results Page (SERP). This makes following white hat or best SEO practices your best bet in getting on top of the search results for your target market.
Last August, Google rolled out a new display format of the search results for local businesses or Google Maps Pins.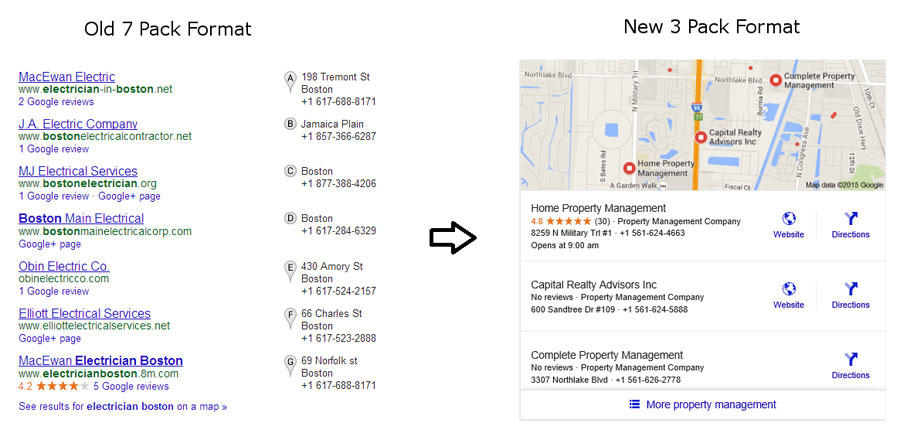 If you're constantly checking your ranking on Google, you've probably encountered the old format which shows seven (7) local businesses. However, the August update shook this up by reducing the number of displayed result down to three (3). Moreover, the results prioritize local listings. So, if your target market (or the keywords you want to be known for) is West Palm Beach, but your office is located in Palm Beach Gardens, Google will prioritize offices within West Palm Beach over yours. Don't worry, you can still be found for keywords outside of your office city, but it'll require extra SEO effort.
Right now, there are only two possible situations for your company: either you're listed among the top three (3) pack or you're not. Obviously, the competition for the top 3 spots is much tighter. So now, what should property managers do to stay in the top 3? If you're not listed, how do you get in?
Staying on the Top Spot
It's definitely not the time to relax and reap the benefits of having the number 1 spot. Surely, your competitors will come up with a game plan to break-in and take your spot. Here are the proven tips that would help you sit prettily on the 3 pack:
Keep in touch with your webmaster, and make sure that your website is keeping up with the best SEO practices.
Regularly produce quality local content such as video tours, blogs, video blogs, testimonials, and promotional videos that would make your company credible in your chosen area.
Keep getting positive reviews on your Google+ Business Page.
Climbing up to the Top Spot
Not listed on the initial results? Don't fret! It's not the end of the world for your company. Of course, getting the top spot overnight is impossible. However, you can slowly work your way to the top by doing these things consistently:
Claim your pin by setting up and optimizing your Google+ Business Page. Make sure that you're posting and socializing your page regularly.
Your website is Google's primary source of information about your company. Having it properly optimized and linked to your Google+ Page is a must!
Being listed on the top 3 doesn't mean that they hog all the rewards. Consumers will still choose company with good reviews. Gathering positive reviews on your Google+ Page is a definite game changer!
Build up quality content such video tours, blogs, video blogs, testimonials, and promotional videos. Local content about your target market is also helpful in associating your company to your area.
Google's other source of information are online directories such as Yelp. Putting up your company information to other popular online directories can definitely boost your online presence.
In a nutshell, getting on top of the search results is a moving target. There are continuous updates that companies need to deal with in order to stay in the game. However, even if Google's algorithm is a mystery to all of us, we can never go wrong with White Hat SEO and producing quality content. Just make sure to keep informed with the latest updates, and be patient with the results.