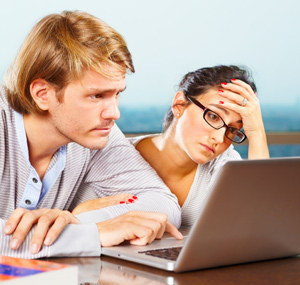 Meeting your company's target monthly sales and profits is always the top priority. You invest in marketing materials, develop marketing strategies, and pay hundreds of dollars to be known as the 'best property management company' in your city. But, don't you ever wonder if there's an easier way to do this?
There is, and it's so simple Property Managers almost always overlook it. It's called Reputation Marketing. It's when you leverage the most important thing in property management, which is your customer's trust, and get reviews and impressions of your business to gain more leads.
Reputation Marketing is the game changer you need to achieve your profit goals.
Here's why:
More Positive Online Reviews = More Customers

Studies show that products with higher online reviews are still preferred versus similar products with little, negative, or no reviews at all. Opinions matter–especially if they're really good, or really bad. 90% of customers say buying decisions are influenced by positive online reviews, while 80% change their minds whenever they see negative reviews.

The results of a Google Search on your company name–and the stars associated with it, can determine if an owner will even consider letting you manage their home. So, if you want them to trust you with their investment, your positive online reviews should show you're worth receiving it.

Free Marketing from your Customers

A single positive review may not be ground-breaking, but a handful of positive reviews can offer your business benefits that simple marketing strategies can't. Most marketing campaigns have a timeline, some are short-term, while others are long-term. However, reviews on your social media accounts like Google+ and Facebook are called micro marketing campaigns that keep on working long after the review has been posted, and it's free! They constantly give your company a positive image, creating a smoother path to get those potential clients.

Improve Your Website Ranking in Search Engines

Online reviews can do more wonders than just creating a positive vibe between you and your customers. They also work toward improving your website rankings on search engines such as Google, Yahoo!, Bing, and more. The more positive reviews written about your business, the more credible you are in the eyes of search engines! This boosts you up in organic search results or the Google map pins.
Where do people click when searching online??
Google Heat Maps show that most people only look at three points in a google search result: the paid ads, the organic search results, and the Google+ pins.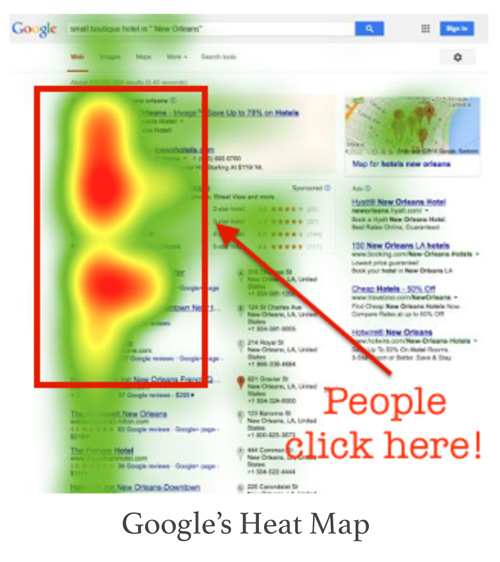 Reputation Marketing is to use your old and current customers' experience to gain new customers. In order to gain those new leads and customers, you need to establish a relationship with them. Of course, we all know that a basic foundation of a relationship is TRUST. Just remember to protect and enhance your company's reputation, and all other things will fall right into places.