Where do we even begin? Talk about setting yourself apart from the competition.
Melbourne Real Estate has gone above and beyond just "implementing video" and is giving the people what they want!
Back in May 2012, these guys started using our services to aid them in implementing promotional videos and video walkthrough tours for their marketing.  They took off with 16,000 views IN ONE MONTH for their first promo video!
Fast forward to 2017 and their reach is absolutely MASSIVE.
Check out their youtube channel where video walkthrough tours are currently getting 150 plus views in one week!
As you'll see in this impeccable promotional video, Melbourne Real Estate attributes their success to the following:
They use Professional Photography and Video Walkthrough Tours to maximize the impact of each of their listings
Notice, they shoot their own video tours from their smartphones attached to a rig.
The benefit to their owners? These listings are viewed more, therefore leaves properties with short vacancy periods, IF ANY!
The Melbourne Real Estate team's goal is to market the properties they are managing, not their business itself.
This shows their owners that they are more dedicated to taking care of their current business than they are to gaining more business.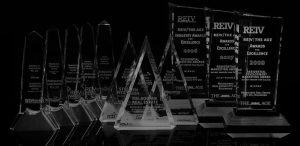 No wonder they've won "Property Management Business of the Year" two years running!
They stay ahead of the curve not only with their marketing but with their customer service.
MRE's focus on "transparency and communication" with their clients could turn the industry on its head all by itself.
Catering to Tenants Pays Off
What property management company do you know of that has created a smartphone application for their tenant's convenience AND focuses showing accommodations on the prospective tenants' schedule rather than their own?
Moral of the story, their methods are groundbreaking in our industry.
We are honored to have had the privilege to assist such an innovative and brilliant team on their journey with video.
Check out them out at https://www.melbournerealestate.com.au/
Learn more about how you can use video to set yourself apart, here.