Are video walk through tours social?
Where are we suppose to put them?
Do walk through tours belong on Facebook, Instagram, and LinkedIn?
A full 5-6 minute walk through video is probably not going to be of interest to most who stumble across them in their social media feeds. Most likely the property isn't even in the city they live in.
The Home Shopper Sales Funnel
There are several steps in the home shopping process that have to happen before someone is ready to watch a video tour. After finding your listing and reading the description, the shopper decides they are interested. They further investigate the property by looking through the photos. At this point, only the most interested will commit to watching a 5 minute video tour.
The video tour is at the end of the sales funnel and shouldn't be used as the initial marketing piece for grabbing attention.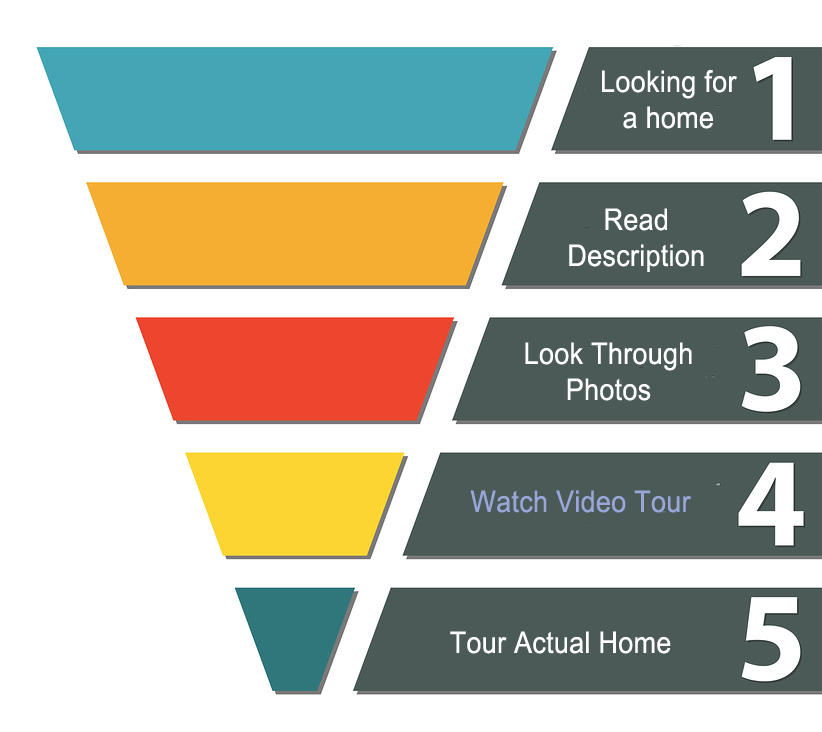 Creating Attention and Engagement in Social Media
So if the video tour isn't going to create attention, what will? Take some time and head over to The Corcoran Group's YouTube channel. They do an amazing job in showing the rest of us in the real estate industry how to use video in an interesting way. A quick overlook of their channel's front page will give you a good idea of where real estate video is going.
Telling a story and asking questions
Take a moment to look over their playlist called "Stories & Spaces". After you are done shooting your regular video tour for your sales funnel, shoot another shorter video that highlights what makes this property interesting. This is your marketing video. Is there something unique about that property that can trigger people – making them inclined to discuss it? Shoot a short video that brands you while encouraging the viewers to engage in a discussion.
The camera I discuss in the video is the DJI Osmo. This camera can flip around with a push of a button to allow you to shoot in selfie mode to pose your question that will prompt discussion, and then flip it back to record the feature of the home.
"Check out this master bedroom! How would you like to wake up here every morning?"
"How would you like to enjoy your morning coffee with this spectacular view?"
These shorter videos are the ones you want to share on social media – your marketing videos. It brands you, shows you are interesting, and promotes discussions and engagements.
Don't forget to get involved in the conversation you started!
Check back and reply to those who are engaging with you! The worst thing you could do is go to all this effort and get responses from viewers – and not engage with them. Be present and active on your social media.
Are you excited to get started? Check out our video tour SEO system and the new "we do it for you" solution with VirtualTours.