Western Australia laws require property managers to spend hours at a property documenting its condition before and after each tenancy. Many of our WA clients asked our help with this task, and here's the system we designed with them:
We teach your staff how to shoot simple videos of the property using a smart phone or camcorder. Our PCR video training is free and can easily be used to train your staff how to shoot these videos.
When done, you upload the videos directly to YouTube from your smart phone, marked 'unlisted' so only those you authorize can view them.
Our team watches the videos and prepares the PCR for you in a day or two. The charge? Just $11/hour, with the average PCR done in 5 hours. This is far less expensive than doing it yourself, and far more convenient than waiting for an inspector who charges $200 and more!
You open your email to find a completed PCR ready for you to review and send to your tenant! The process couldn't be simpler!
We watch your video and send a report like this
Click to see REAL PCRs:
PCR Example 1 | PCR Example 2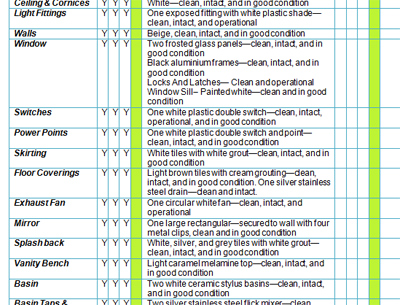 Learn to shoot a video like this in 15-30 minutes
See the report for the property in this video
HERE
.
Find our free training: Australia | North America
Experienced Property Condition Report Team
How is our staff so good?
They've been fully trained in 'Aussie' PCR language, so we know for example:
skirt board = baseboard
powerpoint = outlet
letterbox = mail box
and every other word used to describe an Aussie rental home.
Try us for yourself and see – we're waiting to shine!
What Our Customers Are Saying:
Kevin Hodges
Kevin Hodges Real Estate
,
"Just wanted to let you know how delighted we are with the service. My girls are getting better at doing the videos and your team are getting the finished reports back to us very quickly. They are d
Read more
Gai Kroczek
Total Care Property Management
,
"PCR's are the most time consuming part of setting up a new management and the task most hated by property managers. When we agreed to outsource this task to Todd's team we were very skeptica
Read more
Get Started TODAY with Property Condition Report Video Transcription
Scroll down and 'Sign Up' to get access to the free training videos online.
Watch the training video series 'How to Shoot a PCR video'
Shoot your property condition report video.
Upload the video to YouTube, and send us a link (sound scary? Relax! We teach you how, and even set up your
YouTube channel for you!)
Get a complete PCR in your email in a day or two!
Our $199 Start Up Fee includes:
Get your first 3 PCR FREE! – We guarantee that you will succeed after your third PCR or we will cheerfully refund your money.
We review and grade your videos so your staff can improve their skills with video!
We customize your PCR template to your company requirements.
30-day Money Back Guarantee
Note: Charges will appear on your bill
as 'Home Property Management'
Property Condition Video Transcription Service