Property Condition Video Transcription Service
Western Australia laws require property managers to spend hours at a property documenting its condition before and after each tenancy. Many of our WA clients asked our help with this task, and here's the system we designed with them:
1. We teach your staff how to shoot simple videos of the property using a smart phone or camcorder. Our PCR video training is free and can easily be used to train your staff how to shoot these videos.
2. When done, you upload the videos directly to YouTube from your smart phone, marked 'unlisted' so only those you authorize can view them.
3. Our team watches the videos and prepares the PCR for you in a day or two. The charge? Just $12/hour, with the average PCR done in 5 hours. This is far less expensive than doing it yourself, and far more convenient than waiting for an inspector who charges $200 and more!
4. You open your email to find a completed PCR ready for you to review and send to your tenant! The process couldn't be simpler!
We watch your video and send a report like this
Click to see REAL PCRs:
PCR Example 1 | PCR Example 2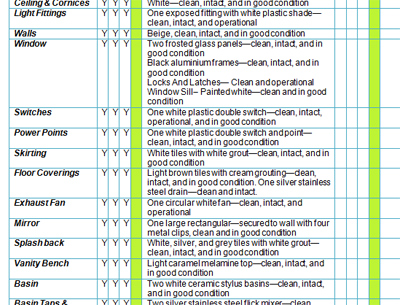 Property Condition Video Transcription Service - Get Started Today!
- Watch the free How to Shoot Home Inspections video training
- Watch the training video series 'How to Shoot a PCR video
- Shoot your property condition report video.
- Upload the video to YouTube, and send us a link
- We teach you how, and even set up your YouTube channel for you!
- Get a complete PCR in your email in a day or two!
Our $199 Start Up Fee includes:
- Get your first 3 PCR FREE! - We guarantee that you will succeed after your third PCR or we will cheerfully refund your money.
- We review and grade your videos so your staff can improve their skills with video!
- We customize your PCR template to your company requirements.
30-day Money Back Guarantee
Note: Charges will appear on your bill
as 'Home Property Management'
Property Condition Video Transcription Service